MGM GR GEOFRAME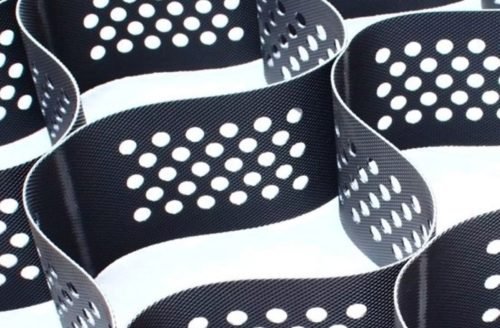 Volume geogrid of polymer tapes that are connected by high-strength welds, form a cellular structure. During laying the material, a frame is formed, fixing any used filler (sand, soil, crushed stone, concrete).
Types
Smooth- geoframe made of smooth polymer tapes;
Textured- geoframe made of textured polymer tapes;
Perforated-geoframe of polymeric tapes with special holes to increase drainage properties.
Properties
Strength, flexibility, elasticity,
High bearing capacity,
Durability, resistance to decay and corrosion,
Breaking load of the seam (up to 26 MPa),
Ecologically safe material.
Application
anti-erosion protection of slopes of transport infrastructure and other constructions;
reinforcement of weakly bearing soils during road construction;
reinforcement and landscaping of the coastal zone of water bodies, watercourses and canals with low flow rates ;